The 2017 13-day Maitri Puja for World Peace, held in Kathmandu Valley from March 21 to April 2, drew tens of thousands of devotees from all over Nepal and the world. From babes in arms to elderly with walking sticks, everyone stepped forward and received blessings from the Mahasambodhi Dharmasangha Guru.
Daily preparation for puja
Activity on the puja site started from 6 am every morning. Maatma marga and guru marga gurus chanted for the first three hours.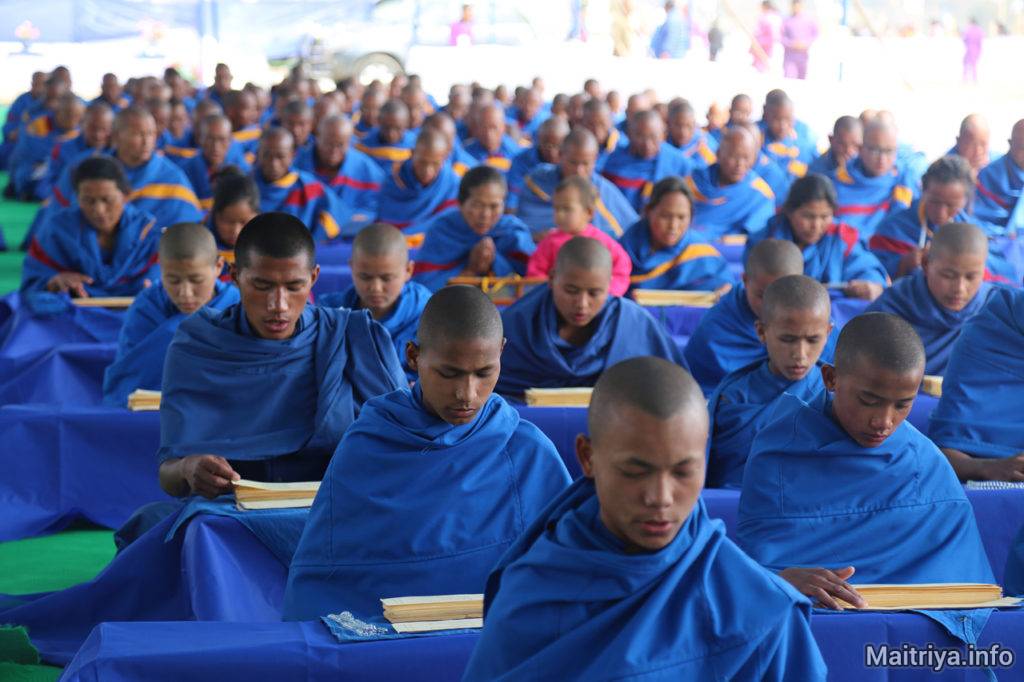 Volunteers showed up to clean and prepare the sacred space for thousands of devotees expected daily. "Maitri mangalam!" echoed everywhere, like singing birds. Food offerings found their place at the foot of the great Maitri Guru thangka that rose over 70 feet into the sky.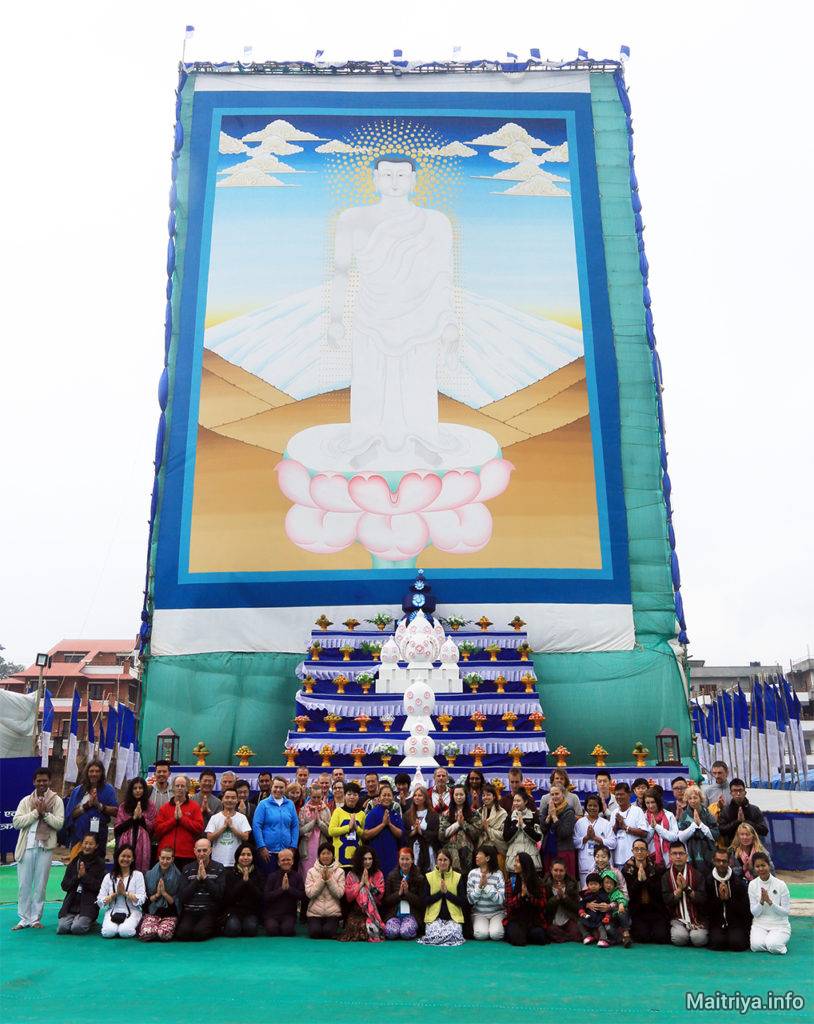 By mid morning every day, people lined the streets, anticipating the arrival of Guru.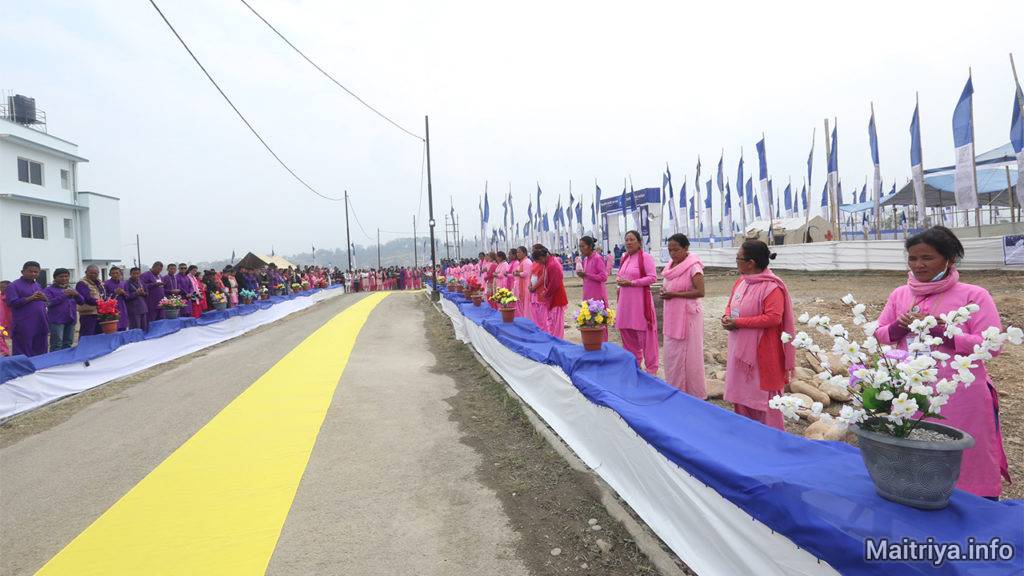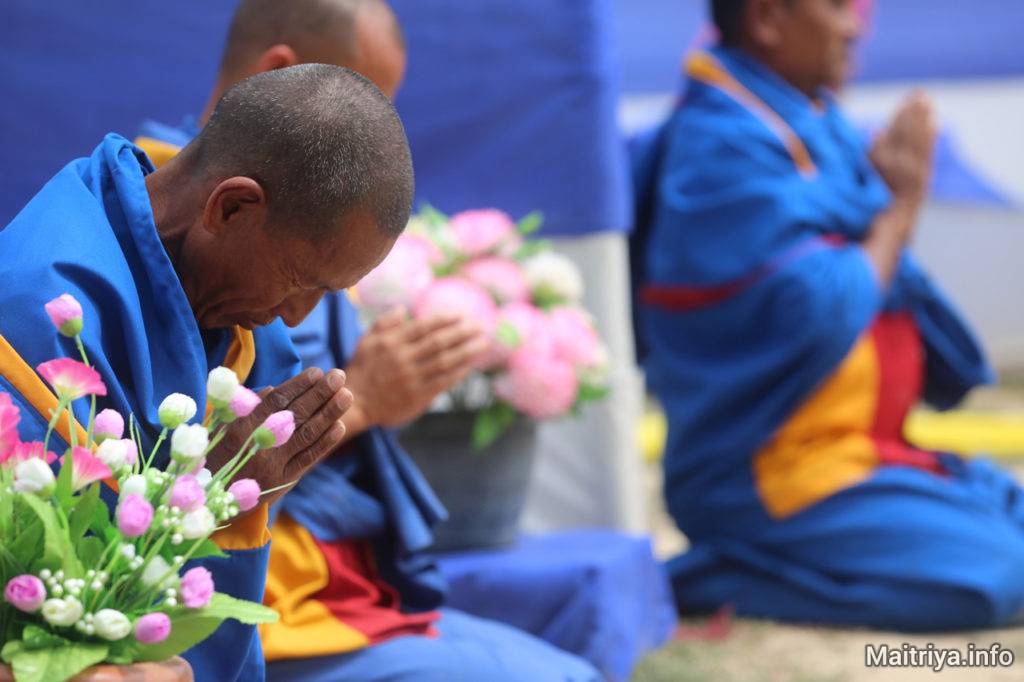 By the time his motorcade arrived and Guru settled into his tall seat up front, throngs of devotees stood in line for blessings. The line often continued down the street and around blocks through the neighborhood.

Guru's enduring love
Despite heat and crowds, Mahasambodhi Dharmasangha gave blessings to all. From the moment he sat down to the end of each evening, he never ate, drank or took a break, except to wipe his brow. No one was turned away.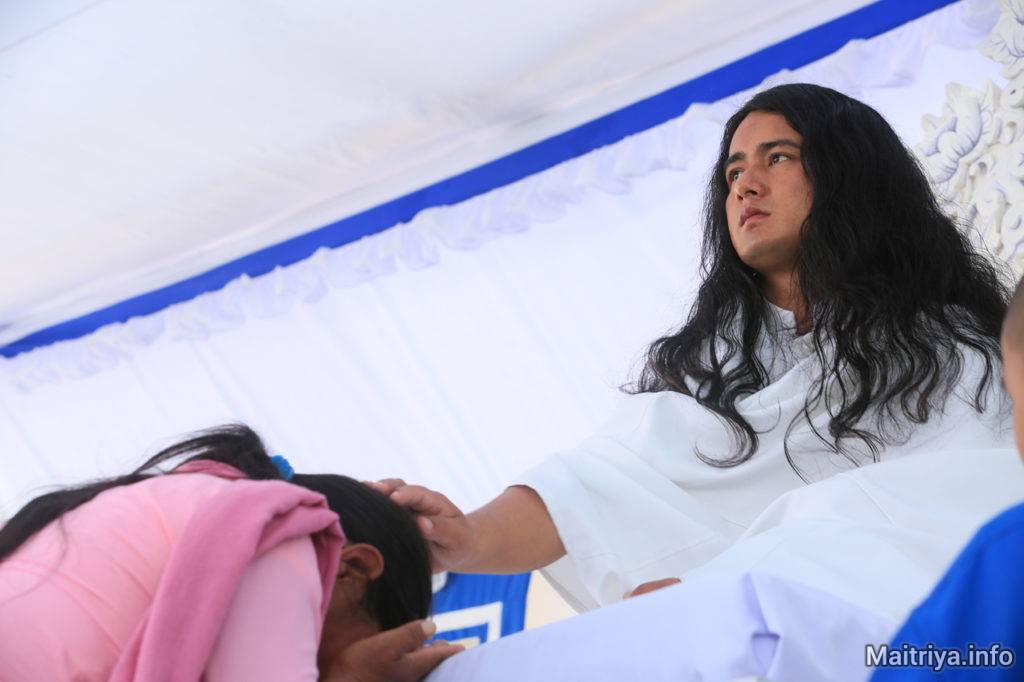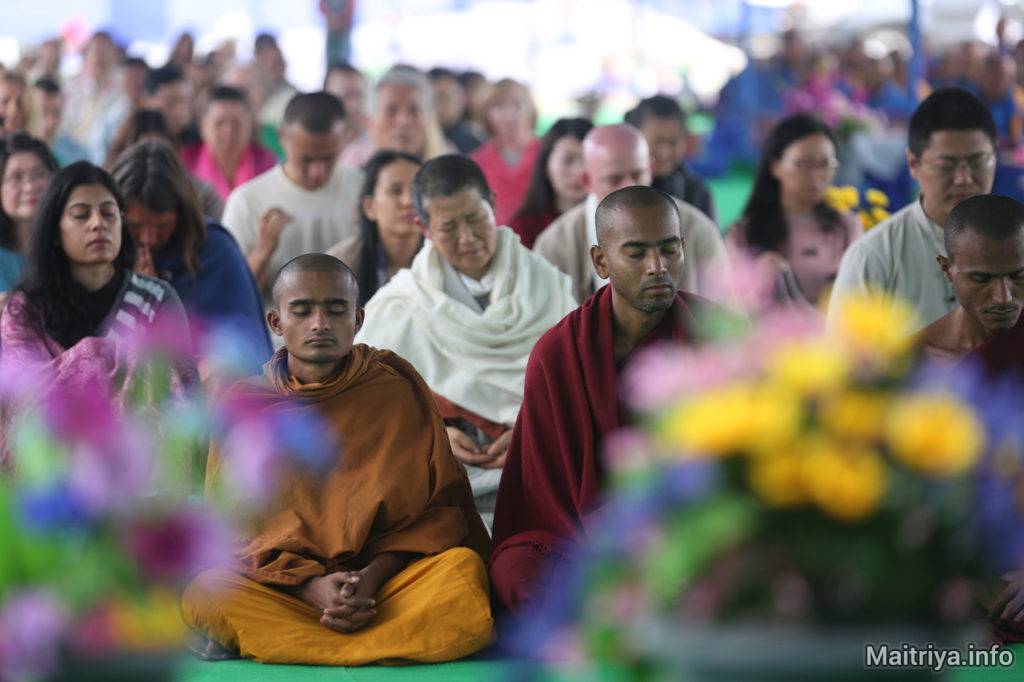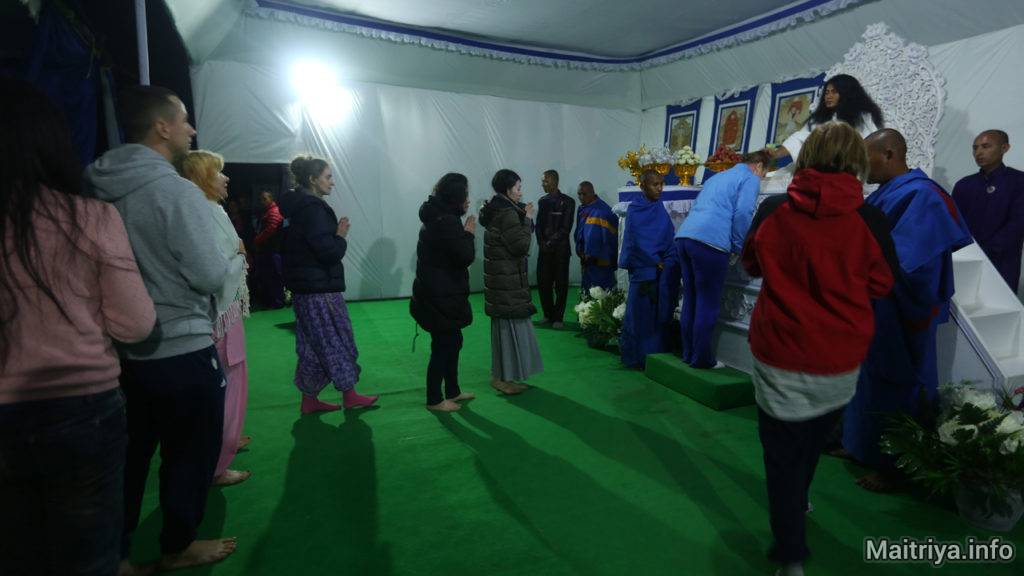 One evening went especially late, close to 11 pm. A long-time disciple marveled at the whole event. "In the beginning, some of us thought we could follow Guru into the jungle and never have to deal with the world again, " he said. Then with a broad smile he added, "That was never the plan, as we soon found out."
Guru's plan appears to be much grander than a simple hermitage in the forest. On the first day of the puja, he addressed humanity with a speech. His aim to spread a divine message of World Peace was yet again evident, not only in his loving words, but in the overall success of the blessing ceremony.
Devotees learned new mantras in the Maitri language. Copies of his first newly published book, in Nepali language, floated everywhere.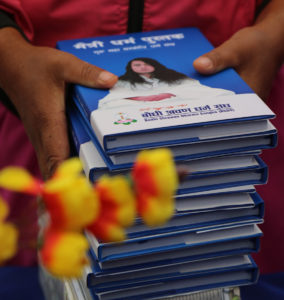 One early evening, just before the last day, a huge thunder and lightning storm swooped down, dropping torrents of rain and electrical displays across the sky. Sangha members rushed to secure poles holding up tarp coverings. "Something very auspicious is happening now!" shouted out one sangha member.
And yet Guru never lost a beat. He remained on his seat and continued to give blessings. Those in line waiting did not budge. Getting soaked by a rainstorm was a tiny price to pay for his powerful touch.
Later that evening, some disciples reflected on the storm. "Sometimes a big storm comes through towards the end of every darshan (blessing ceremony)," one devotee confided. "It helps to clean the energy."
The storm, indeed, brought with it a great cleaning. No one was injured. Visitors, sangha members and monks all came together for an unexpected sharing of love, friendship and support. We all marveled at this beautiful way to unite all, germinating the seeds of World Peace.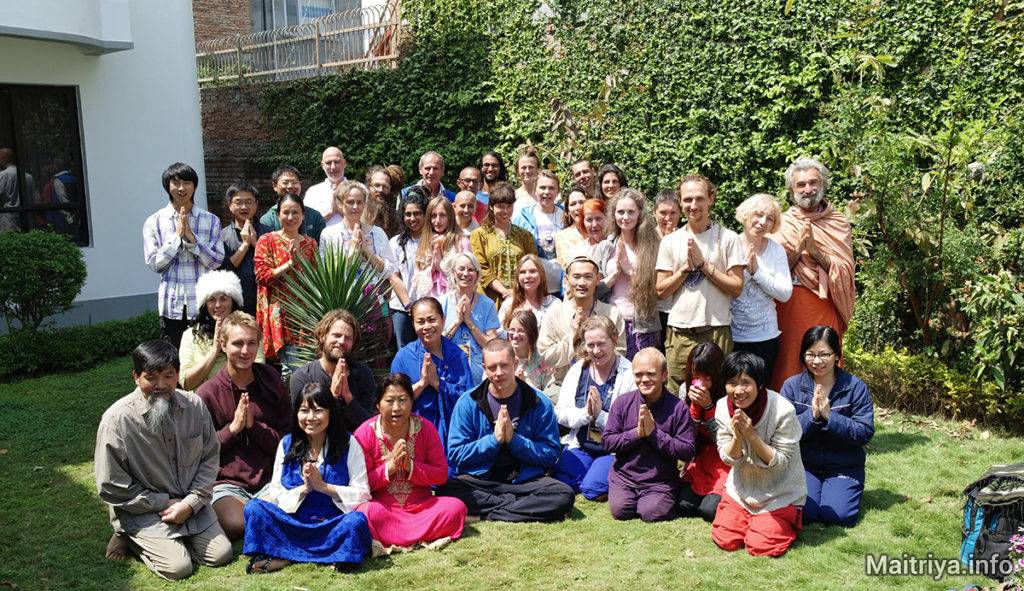 Maitri Mangalam